@odwyersol
Feb
15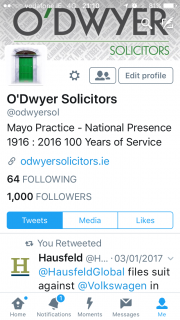 We are very pleased to reach our 1,000th follower on our designated Twitter account earlier this month.
We have a designated Twitter account which is used not only to highlight the work that ...
Read More
How Lethal is your Mobile Phone?
Feb
7
Almost everybody now has a smart phone.  The phone and its features have become an integral part of almost everybody's life.  Your calendar, your music, your emails, your contact lists and of course your phone are all incorporated in one single device.  ...
Read More